They say this stuff below
here
, which is very nice of them:
As far as songs about minivans go, Short Hand's "Family Van" is up there at the top like the ultimate astrovan. Played it on the
radio
this morning and WFMU's listeners christened it "new fave tune," "what the Rolling Stones would sound like jamming with Half Japanese" and "rollin stones with brains."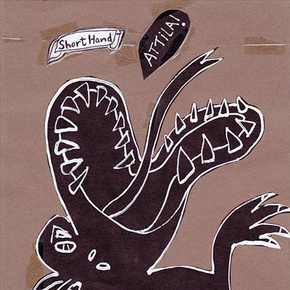 "Family Van" has an intelligent, wild-eyed sort of snarl that is unique to one
Peter Davis
. The Indiana-based poet, painter, and assistant professor also makes lo-fi freak-folk as
Short Hand
. You can learn more about Peter at
artisnecessary
.
"Family Van" comes from Attila, Short Hand's most voodoo-infected album. Check out that disjointed harmonica and delta blues guitar riffage on "All Is Right," and the anthemic "Certain Strangers."
Attila is one of four Short Hand LPs currently available for free via the new Creative Commons netlabel
Infinite Lute
-- check out their site for more and stay tuned!